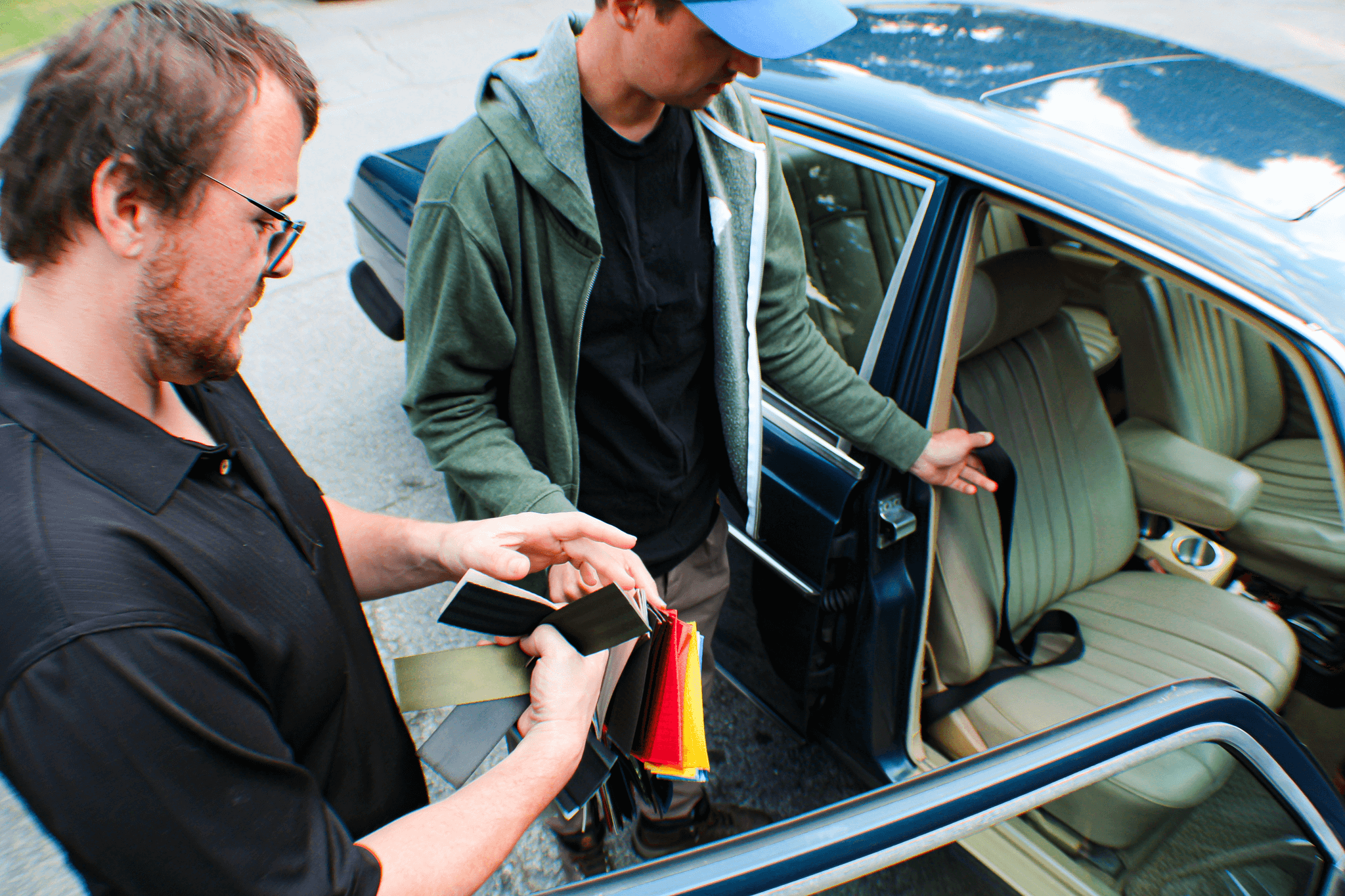 ---
Custom Color Seat Belts Webbing Replacement Service That's Painless!
Posted On: 08/30/2022 | Author: Kayla Wilson
Some People Change Their Hair Color... Motorheads Get Custom Color Seat Belts!
Custom color seat belts are even less time consuming and expensive to obtain than a hair color appointment- it's true!! There are several reasons why someone would want to upfit or modify their vehicle, but the main reason we've encountered is to improve the experience of the driver. Majority of people who mod their vehicles aim to create the best car they can and only use the highest quality parts- that's why they choose our services!
Modifications can improve the appearance, handling, driving qualities, and reliability of the vehicle, while some can also improve the vehicle's safety to meet the latest safety regulations and requirements, even surpassing them!
Uniquely, our company has serviced over 1,000,000 parts since 2006 and our customers have stated that replacing their seat belts with custom color seat belt webbing was "one of the most satisfying and easiest upgrades they made to their vehicle".
Moreover, simple vehicle mods such as replacing seat belt webbing with custom color seat belts seems to be most popular with daily drivers like the Chevrolet Corvette or the Porsche 911, vintage and classic cars, concourse show quality cars such as the Ferrari 250 GTO and Aston Martin DB5, and late model collector cars like the BMW 1-Series M Coupe, Nissan GT-R, Porsche Cayman R/Boxster Spyder, Ford Mustang Shelby GT350, & Dodge Challenger SRT Hellcat. Even trucks such as the Ford F-150 SVT Raptor and Jeeps including the CJ-5, CJ-7, YJ, Grand Cherokee SRT8, Wrangler Rubicon 4x4, JK, JL, & JT also are known to be customized regularly!
These vehicle owners replace the webbing of their seat belts as a creative modification to make a statement!!!
---
Overall, custom seat belts not only personalize a vehicle, but repairing them when needed also adds value to the vehicle. Seat belts regularly deteriorate from everyday wear and tear & they're vital to the safety of the vehicle's driver and occupants.
In conclusion, ride both safely & in style!
---
65+ OEM Quality Options: Color Match or Custom Color Seat Belts of Your Choice!
Whether you need to replace the webbing of your seatbelt due to necessity or purely out of preference, nothing compares to expressing yourself in style- we've got you covered. In either case, we carry over 65 fade resistant colors to provide the highest quality 100% OEM (Original Equipment Manufacturer) seat belts with the best service and price. Because we offer so many color options, we can match your existing seat belt color or help you add some aftermarket swag to your tuner vehicle (hotrod, truck, JDM or Japanese Domestic Market).
Due to the current global supply shortage, our company has the largest inventory currently available for consumers, auto body shops, vehicle collision centers, and dealerships to rely on, no matter the vehicle's seat belt type, with fast turnaround time.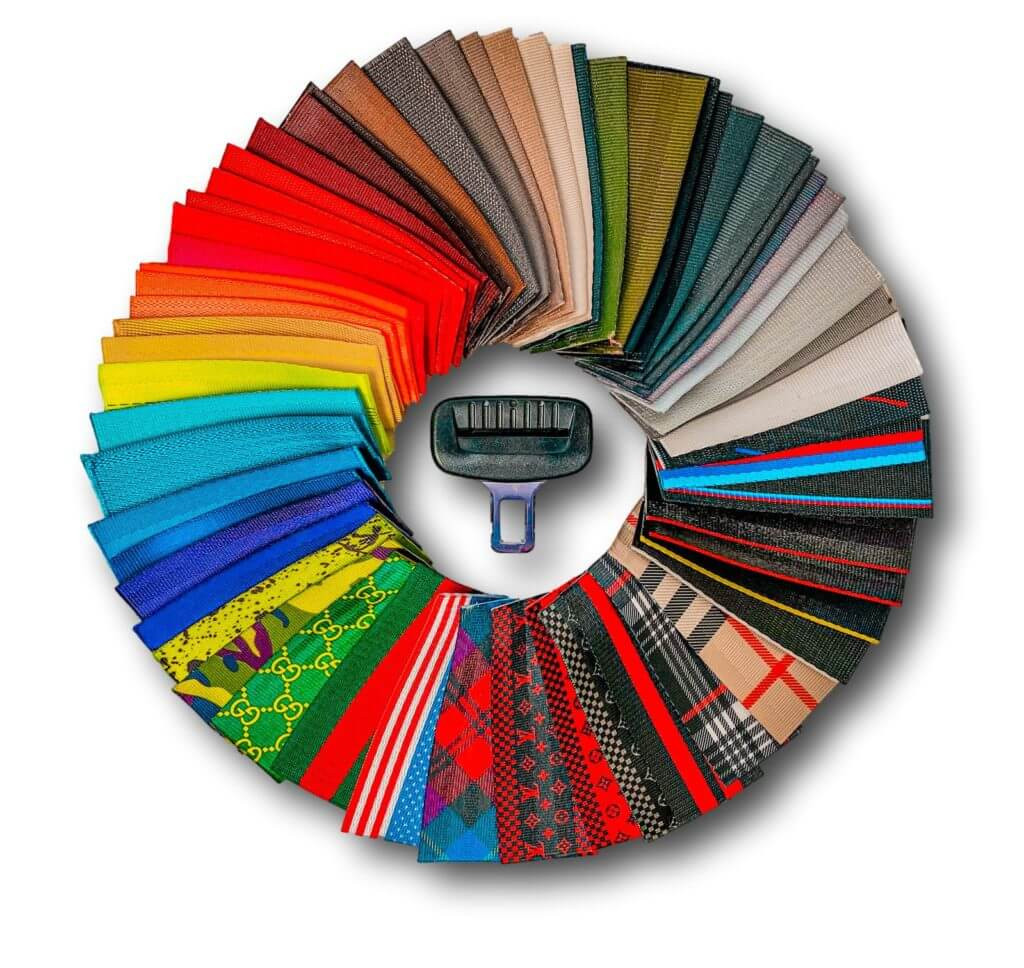 How To Get Custom Color Seat Belts with Repair or Replacement?
Honestly, the process is super easy and our team is here to help you every step of the way! In case you do require further help, we even offer technical support!

First, visit our website to select a color option that's right for you. (Don't forget to keep reading to see our style guide!)
Second, you'll need remove the seatbelts from your vehicle and send them us! Don't worry- we have tutorials readily available to help make this process as simple as possible for you.
Finally, we replace your seatbelt webbing within 24 hours of receiving your package and ship your new seat belts right back to you!
It's literally as easy as 1-2-3!!!
Here at MyAirbags, we offer an alternative to expensive dealership and mechanic shop part replacements while taking control of your vehicle's care and appearance.

*Since the color on your display screen may vary from actual seat belt webbing colors dependent on your monitor settings, we offer color swatches of our webbing material before you place an order to match the color as accurately as possible.*
Custom Color Seat Belts Proudly Made & Hand-Assembled in the USA
Unlike many of our competitors, one of the benefits of using our service is that all of our seat belt webbing replacements are made and assembled with the seat belt pretensioner in Atlanta, GA, USA. Unfortunately, majority of other companies purchase their seatbelt webbing from China because the cost is lower. However, most of these Chinese belts do NOT meet Federal Motor Vehicle Safety Standards (FMVSS) and the seatbelt webbing color options are not an exact match to what is depicted online.
From the many male dominant industries I've had the pleasure being a part of, it's been my experience that knowledge of interior design can be applicable anywhere- even in your car!! I hope that you all enjoy the content that I've written for you and that this secret style guide helps you. Custom color seat belts may not change your life, but I guarantee it'll certainly change your attitude! Can't wait to see your photos shared with me on Instagram!

From The Author, Kayla Wilson
Secret Style Guide: Tips & Tricks From a Woman in the Industry
"It's good when you follow your dreams. It's better when you drive it." And our team here at MyAirbags is so excited to help you along the way! So here we go...
Whenever your implementing your vehicle's interior design scheme, it's important to make sure the colors you choose to be a part of your vehicle's interior design works with the vehicle's theme and textures. Hence, a luxury vehicle will have a different look than a sporty vehicle. Similarly, a mom boat (mini van) will probably look nothing like a hotrod.
Finally ladies and gentlemen, it's time to start your engines and get ready for some vehicle interior design tips!
Tip # 1 - Selecting Contrast vs Blending
Particularly, if you're going for a slick solid color feel, it's possible to pull this off by blending all of the same interior color. As long as the shade of each modification matches exactly, it's possible to make it feel like you're stepping into your own personalized color portal. (You can make sure you order the right color by first ordering a sample with us.)
On the other hand, there are many contrast options that can really make your vehicle's interior POP and this is one really easy way to do so. In addition, contrast can add depth and dimension to a small space to also make it feel larger than what it really is.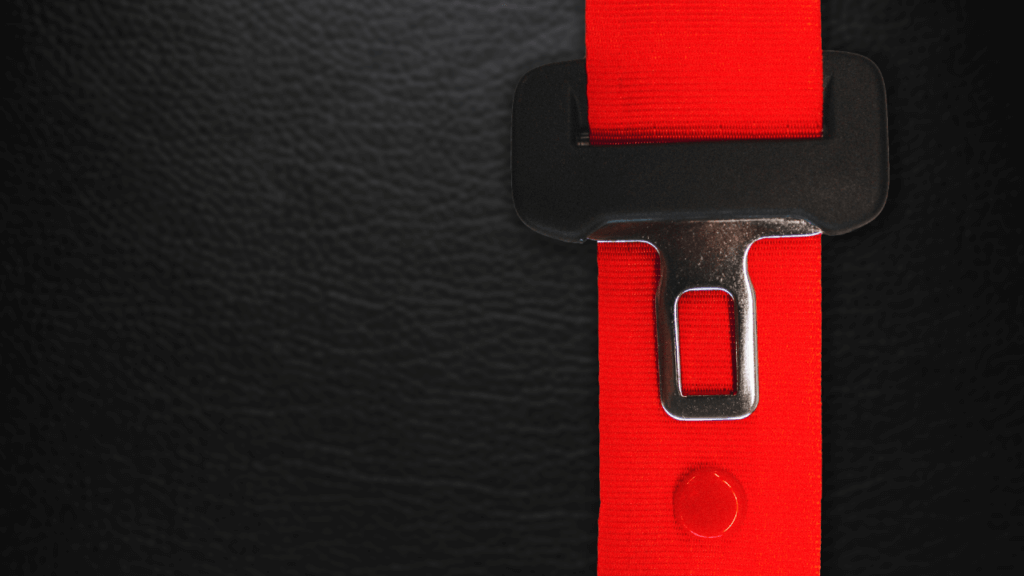 Tip #2 - Selecting Solid Color vs Pattern
Coupled with having to decide if a contrasted or blended look would add to your vehicle's interior design best, it's also important to consider whether or not to choose a solid color or a pattern for your new custom color seat belts.
In case you have an existing patterned seat cover or patterned steering wheel, we would recommend choosing a solid seat belt webbing replacement color as having too many patterns can easy clash or feel too busy. As a result, adding a patterned seat belt webbing to a vehicle containing these modifications would most likely make a small space feel even smaller.
Also, if you are considering a custom pattern seat belt, the pattern should be carefully chosen so that it doesn't draw too much attention. Unless the seat belt webbing is meant to be the focal point of the vehicle's interior design, from a design standpoint, the saying of "less is more" rings true.
Among the many color options that we carry, we offer more solid colors than patterns. In general, solid color seat belts can fit the theme of most vehicles effortlessly. Especially if your design is meant to have contrast, the best way to do so is to use opposite sides of the color wheel (black and white, purple and yellow, orange and blue, etc). For this reason, auto enthusiasts and vehicle dealerships use this design tactic to add value and interest to their vehicles.
Tip #3 - Selecting Proper Shade of Color
Lastly, you'll want to choose the right shade of the color (again, don't forget that we offer color swatches!). By all means, if you work daily in construction, you probably won't want to pick neon yellow seat belt webbing replacement for your daily driver- it will reflect dirt easily!
Equally important to these tips, the biggest trick in my pocket we'd like to share with you is to KEEP IT CLEAN! To clarify, if your vehicle isn't clean, you won't want to get inside and neither will anyone else!
Indeed, make sure to share your interior design photos with us on Instagram and tag us with @myairbags!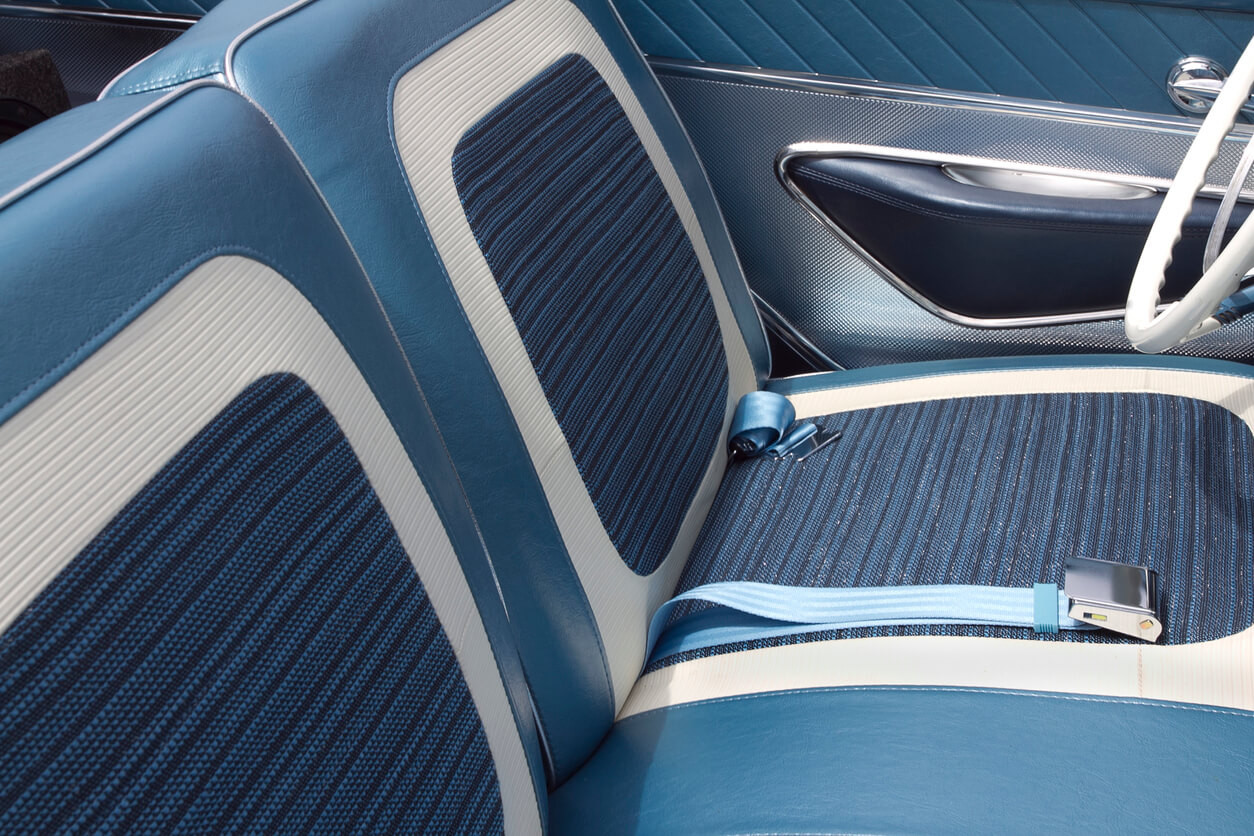 To Restore or Replace Seat Belt?
Since a question that we are regularly asked is, "What is the difference between replacing and restoring the vehicle's original seat belts?", we thought we'd share!
For starters, when you choose to replace your seat belts with a dealership or mechanic, you're often paying a much higher price than necessary. Mechanics and dealerships have very high mark-up prices and service fees for services such as seat belt webbing replacements. But, very commonly, they also often charge unnecessary repairs to each invoice such as oil changes, air filter upgrades, etc.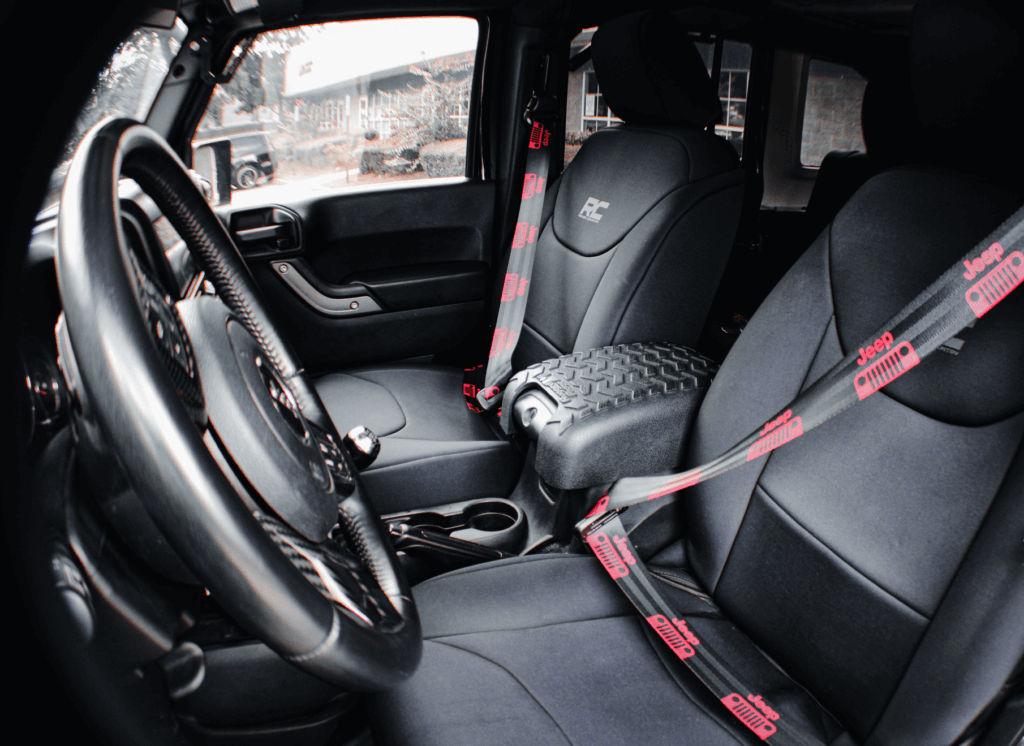 Luckily, seat belt restoration services like ours provides convenience of saving both time and money while helping you skip the visit to the auto repair shop or dealership. Likewise, our products and service ensures your vehicle meets or exceeds safety standards required in a certified seatbelt. Because services like ours exist, there's no longer a need to buy new seat belts- just send us your originals and we'll make sure your original parts and repaired with care!
Furthermore, if product quality isn't incentive enough to repair versus replace your seat belts, then knowing you can literally save HUNDREDS of dollars with a service like ours should be! On average, one singular seat belt purchased from a dealership can range form $200-500 including installation- we're proud to provide alternative, environmentally friendly options that benefit our customers. Therefore, we even offer a money-back guarantee on repairing, rebuilding, and restoring original parts back to their factory condition!
When Do You Need To Replace Your Seatbelt?
There's many reasons one would need to replace their seatbelt webbing, such as if it is malfunctioning or shows excessive wear and tear. When your airbag light turns on after an accident, it's important to reset your airbag module and replace your seatbelts. While the main reason to repair or replace your seat belts is after a vehicle collision, other include when they're showing signs of being decayed, weathered, they become stiff, or have damage from animals.
Seat belts, much like an airbag, is considered a single use safety item, also much like a doggy waste bag! Once it's used, it really shouldn't be used again...
And speaking of dogs, that's another common reason why vehicle owners need to repair their seatbelts! Oftentimes, furry four-legged friends get bored and chew on these safety tools causing them to rip or tear- it's just part of being a pet parent! Despite what they do when they're learning or bored, you can't help but love them anyways!
In essence, that's why we offer an affordable and fast repair service for these instances.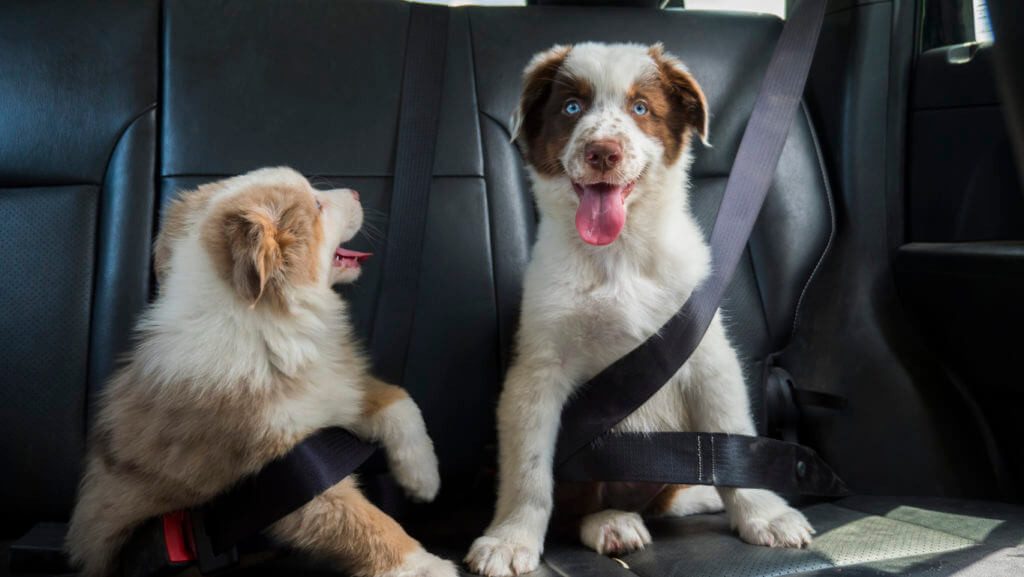 How We Can Help
Because our goal is to educate and be of service to all, consumers and businesses loyally choose our company and our dedicated team to provide their post-collision SRS (safety restraint system) repairs. Did you know that hiring our services can literally save you hundreds of dollars and valuable time?
Whenever companies and customers send us their parts, they're avoiding the hours of research needed to learn how to do what we do as well as eliminating the need to purchase expensive equipment they're likely not to use again. To conclude, that's why even auto enthusiasts, auto dealers, auto shops, and collision centers come to us- we've a team professionally trained and ready to serve all of our customer. Our customer service team possesses unwavering commitment to providing the best experience to all and always improve! Above all, we're so grateful to have so many customers support our services and choose a small business for their needs as we look forward to serving them all for years to come!
After you're done readying this article, place your order today for your custom color seat belts- we promise you won't regret it or your money back, guaranteed!
Then once you receive your part, we make sure that you can just simply install it in to your vehicle and be done.
MyAirbags also offers active headrest repair, active hood repair, collapsible steering column repair, occupant module reset, rollover bar repair, custom seat belt colors, seat belt repairs, and airbag control module reset services, too, for those that cannot go without their vehicles.
Now, want to learn more about airbag module reset?
Only Available at MyAirbags.com
Don't Miss Out! Order Your Custom Color Seat Belts Now!
Still have questions about custom color seat belts? Ask our
forum

!
Related Articles
---
For Custom Seat Belt Color Availability, Compatible Vehicle Brands, & Helpful Videos, Scroll Down