Airbag Connector Wire Repair Kit | Limited Inventory!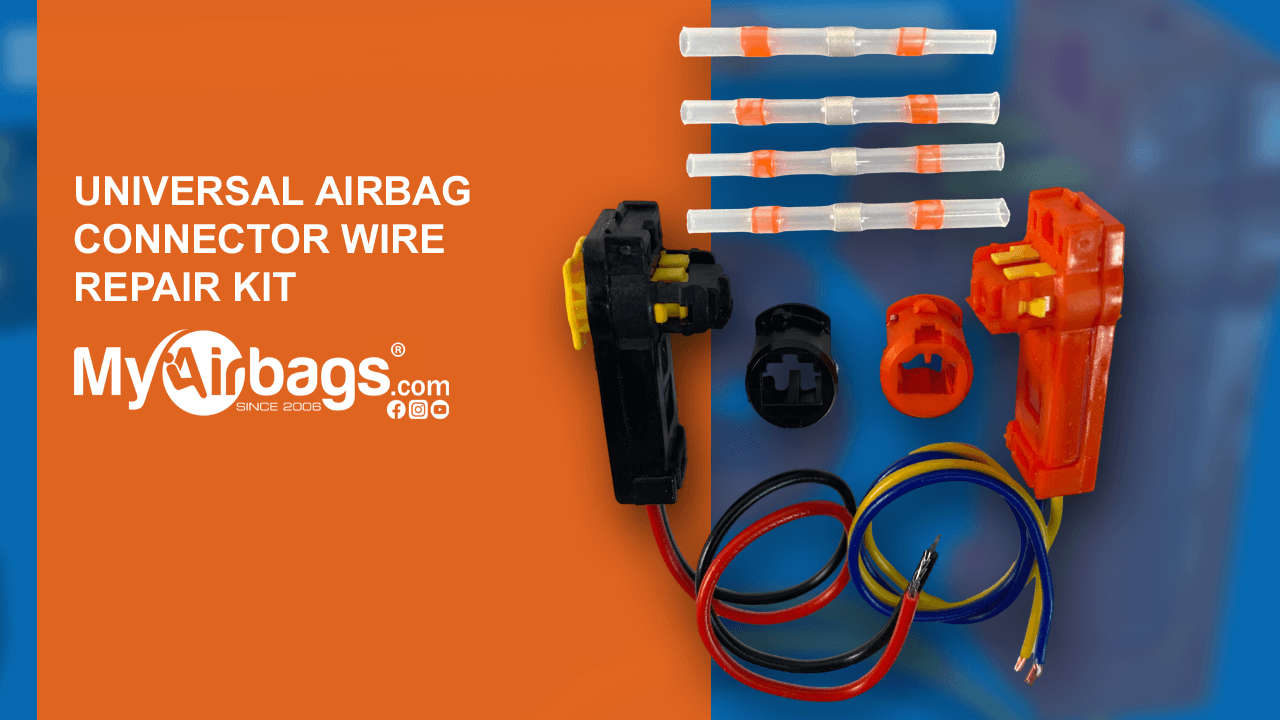 ---
Universal Airbag Connector Wire Repair Kit - Available for a Limited Time Only at MyAirbags!
Author: Kayla Wilson
Need a Universal Airbag Connector Wire Repair Kit? You've Come To The Right Place!
Look no further! Our team, here at MyAirbags, has finally created a universal airbag connector wire repair kit that can connect to all makes and models of vehicles. With the way we've designed our affordable package, we make sure you have all you need in one kit. Our solution has everything you need in one place!
Just cut your old melted plugs and connect or solder our new plugs- it's that easy! Replacing old melted/damaged clockspring plugs has never been more simple.
Please keep reading for more information on what airbag connector plugs are, what they're used for, where they're located, reasons for replacement, mechanics' myths, and to learn more about why our kit is the best fit for your needs!
What Is An Airbag Connector Plug & What Is It Used For?
An airbag terminal connector is one of the vehicle's many Safety Restraint System (SRS) connectors. This specific connector was created to ensure that electrical wiring provides a stable electrical connection to the pyrotechnic airbag for the lifetime of a vehicle.
Simply put, it's what sends communication between the impact sensors and the airbag module that controls airbag inflation upon impact. Once the impact sensors have detected a crash, the vehicle's airbag inflation system reacts and produces a chemical reaction by combining sodium azide and potassium nitrate. This combination creates nitrogen gas which inflates the airbag.
Did you know from the time the sensor detects vehicle impact or a collision to the time of the airbag fully inflated only takes 25 milliseconds, or 0.025 second?! Amazingly, that is almost 200 miles per hour! Therefore, it's most important feature is to minimize unnecessary electrical spikes to ensure there's not a misfire of an airbag.
Airbag Connectors Are Also Known As...
Clock Spring Plug
Clockspring Connectors
Harness Connectors
Airbag Plug
Airbag Terminal Connector
Squib
Pigtail
Where Are Connector Plugs Located?
Not suprisingly, airbag harness connectors are often attached to the back of the airbag and because a lot of airbags are placed in the steering wheel, they're also located inside of the clockspring.
The clockspring allows electrical connections between the stationary steering column and the rotating steering wheel. These electrical connections include the horn, airbag, speed control, and audio control. Furthermore, the way clocksprings are designed to hold the wiring connections reduces the risk of damage or interference. They're able to do so as they're basically spiral-wound rotary electrical connectors that allow the steering wheel to turn.
Reasons for Airbag Connector Wire Repair
In some cases, when a mechanic is replacing a clockspring or seatbelts, connectors are easily damaged when removing the original part. Consequently, scenarios like this require replacement. These harness connectors can also be damaged when the vehicle is in a collision.
In other cases, clockspring connectors can melt from airbag deployment. It occurs when the ignitor is triggered and burns a solid propellant, similar to a solid rocket booster, to produce nitrogen gas. During this inflation process is when heat is created and absorbed from converting a solid to a gas. As long as airbag inflation systems include nitrogen gas, it will be very common for plugs or connectors (whichever term you prefer to use) to melt.
Other Post-Collision Services Likely Required
In the event a vehicle is in an accident and the airbags deploy, the airbag lights will likely illuminate on the dashboard. This means the vehicle's airbag control module requires a reset as it stores crash codes, hard codes, soft codes, and latch codes.
Unfortunately, it's extremely common for a vehicle's seat belts to not work properly after being involved in an accident, too. Most common issues experienced with seatbelts include being locked, stuck, cut, torn, or ripped requiring repair. Additionally, pyro sensors built in to the seatbelt triggered by impact sensors initiate the seat belt locking. Also, the code potentially stored in your airbag control module could be keeping your airbag light on.
"I certainly didn't know this until working at MyAirbags!"
Especially during an accident, it's very dangerous for all occupants of a vehicle in motion if a seatbelt pretensioner malfunction is the cause of the airbag light being on.
Mechanics' Myths: Don't Spend Time & Money You Don't Have To!
Oftentimes, mechanics will sell consumers a clockspring replacement even if the existing part still functions properly to replace the airbag connector plugs. This isn't a cheap repair; it averages a cost of $500 with labor and is unnecessary. Then when they are removing it, they accidentally damage it and require them to purchase a second one!
In addition, mechanics will also recommend an unnecessary passenger wiring harness replacement.
Dealerships and body shops cannot clear the crash codes, hard codes, soft codes, or latch codes stored in the vehicle's airbag control module, so they generally recommend a replacement module and replacement seatbelts. Without labor, the average cost of a new airbag control module ranges from $150-$600 depending on the vehicle! New seatbelts even cost between $200-$300 per belt!
Unlike mechanics and dealerships, we offer time and money saving solutions. One of the best parts about our services is that they cost a fraction of the replacements mechanics recommend for parts aren't even guaranteed to solve your problem! Repair your seatbelts add reset your airbag control module with IPC-Certified electronics technicians here at MyAirbags. You can even purchase a pair of connectors that fit your vehicle make and model or try our universal pair from our website! In general, splicing existing wires coupled with installing new plugs will fix the issues with the clockspring and wiring harness.
Read more about how our universal repair kit works in the next section below!
About Our Universal Airbag Connector Wire Repair Kit
Benefits of our Universal Airbag Connector Wire Repair Kit:
All you need in one kit
Can connect to all makes & models
Easy to install
No specialty tools required
MyAirbag's exclusive airbag connector wire repair kit includes a pair of Universal Air Bag Clockspring Plugs. Since we're the only universal plugs distributor as dealerships and auto stores do not carry these products, inventory is limited.
Our kit also contains two pairs of Solder Seal Heat Shrink Wire Waterproof Connectors (4 in total). These are great and easy to use as it's a simple sleeve of heat shrinkable material that even a hair dryer can melt! It doesn't require any specialty tools to install! These tubes are one of the better products available as when they are used properly, they mitigate the potential dangers of corrosion and moisture.
All you have to do is cut your old melted plugs and connect or solder our new plugs in place! It's that easy!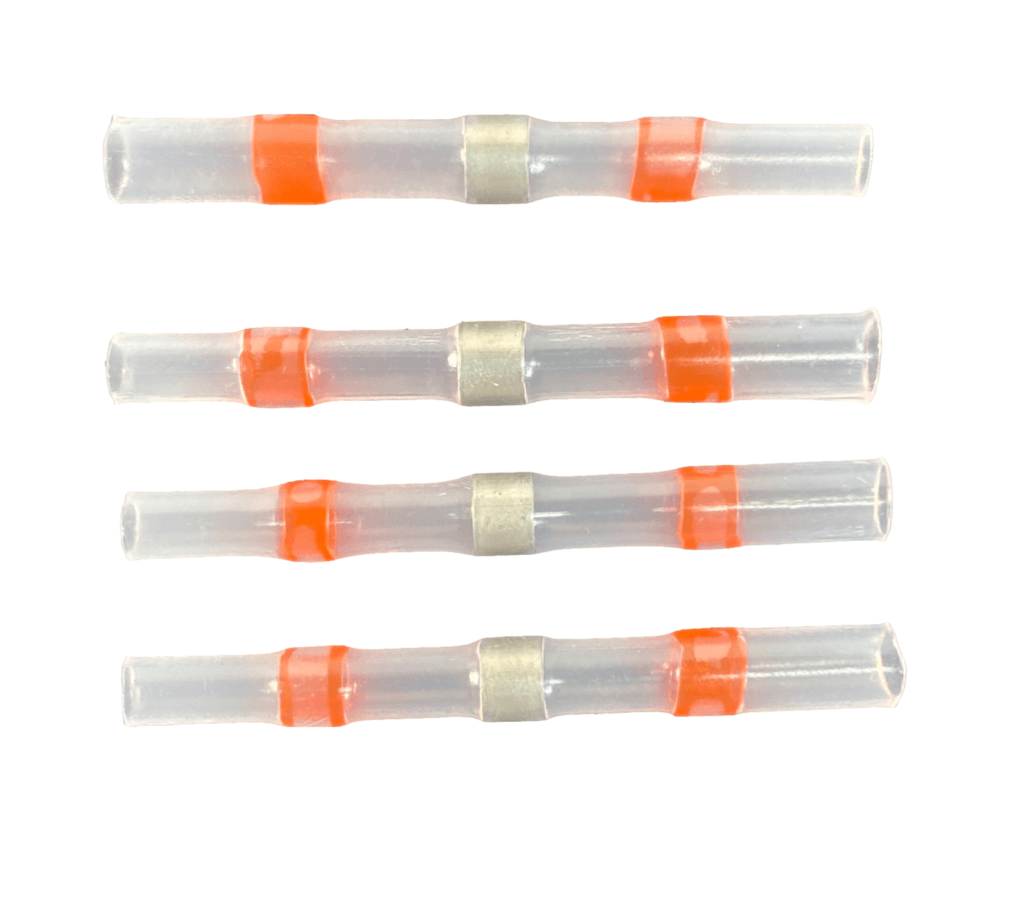 Don't Miss Out! Order Your Repair Kit While Supplies Last!
Still have questions? Ask our

forum

!
---
---
Related Articles
Coming Soon... What Is A Clock Spring and What Is It's Importance?
Coming Soon... How To Use Solder Seal Heat Shrink Wire Waterproof Connectors
Airbag Clock Spring Plugs Wire Connector | Airbag Connector Clock Spring Wire | Airbag Clock Spring Plug | Airbag Clock Spring Plug Wire Connector | Best Airbag Parts for Cars, Trucks, & SUVs | Airbag Connector Plug | Airbag Wiring & Plug Loom Repairing Kit Triple Wire Connector | Connector Repair Kits